Triplex Power Pump<![if !vml]>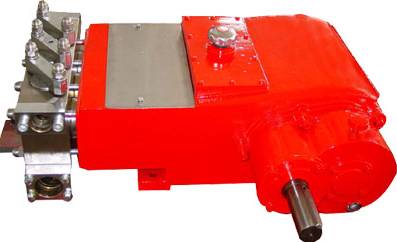 <![endif]>
SHINEQUIP has long been a leading supplier of pumping solutions for the Energy, Industrial, Chemical, Mining,Pulp and Paper, Food, medical, Steel/Aluminum,Reverse Osmosis, Glass, detergent, high pressure scale-washing, geological, rock mechanic, electric power, and Municipal markets.Many factors have contributed to our success, but the most important is our ability to provide unmatched overall value and true pumping solutions for our customers. We have redefined the traditional expectations in the industry by setting new standards for low cost of owner- ship, long service life, and ease of maintenance.Talented technical persons, high design level, complete quality control system, excellent after-sales team and service are available in the company.
We deliver value by:Offering the most comprehensive line of reciprocating, positive displacement pumps available on the market today. Our wide range of cost effective pumps are available in a range of designs and materials.With over 20 unique pump frame sizes to choose from no matter if your service requires 2HP or 500HP, chances are that SHINEQUIP has an optimal pump for your application.Providing the experience and total capabilities that few other suppliers can match. We have the in-house expertise to carefully review your requirements and assist with the selection of the best products to meet the needs of your application. If your needs re- quire it, we can unitize the pump and provide anything from simple engine or electric motor driven pump skids to complete enclosed pumping stations. All series of products of our company have mutual characteristics in advanced design, modern structure, stable run, convenient maintenance, safe and reliable sealing, long life in easy-wear parts, high volumetric efficiency, etc. On the base of existing series of products, tailor-made product with special specification can be provided to the users. Our primary reciprocating pump offerings are the 3W and 5W Series pumps. These pumps are horizontal reciprocating pumps offered in either
a triplex or quintuplex configuration. All are available as plunger pumps, and many are also available piston pumps. These pumps are outstanding performers and extremely cost effective. They feature conservative pressure ratings and slow speed operation for enhanced durability.
3W(three plungers)/5W(5DSB,5DS)(five plungers)series.These are high pressure reciprocating pumps which have 24 types with 800 different specifications. Highest output pressure available is 150 MPa. And theoretical flow rate 0.2-155 m3/h. These high pressure pumps are used as pump for
tank-filling of liquified carbon dioxide, feed water pump for high pressure steam boiler, pump for supercritical extraction, high pressure sludge pump (pulp filling pump), high pressure scale-washing pump, pressure test pump, copper liquid pump, Detergent sludge pump, water flooding pumps(water injection pumps) used in oil field, reciprocating oil pump. Seawater pump (pump used in desalination of sea water), high pressure dephosphorizing pump used in metallurgical industry, cleaning pump used in wharf, pipe cleaning pump,pressurizing pump, hyper pressure pump and The polymer injection pumps.
3WG series These are pumps for high pressure steam boiler.
3CQ series These are pumps for intake and extraction of liquefied gas. Their maximum output pressure is 80 MPa(11600PSI).These pumps have following characteristics, ie: advanced technology, compact structure, high efficiency, low noise, low gas-sealing factor, easy maintenance and reliable performance which reaches domestic leading level. They are widely used in transportation of liquefied gas and in supercritical extraction of carbon dioxide in medical and food industries.
PLEASE CONTACT SHINEQUIP FOR MORE SPEC.
| | | | |
| --- | --- | --- | --- |
| NO | SHINEQUIP | Wertherford | Similar level |
| 1 | 3W20 | Model T2 | Same design |
| 2 | 3W35 | Model T5 | Same design |
| 3 | 3W40 | Model T10 T13 | Same design |
| 4 | 3W50 | Model T22 | Same design |
| 5 | 3W60 | Model T25 | Same design |
| 6 | 3ZW75 | Model T40 | Same design |
| 7 | 3W75 | Model T45 | Same design |
| 8 | 3W80 | Model T50 | Same design |
| 9 | 3ZW100 | Model T55 | Same design |
| 10 | 3W100 | Model T70 | Same design |
| 11 | 3ZW80 | Model T90 | Same design |
| 12 | 3W120 | Model T105 | Same design |
| 13 | 3W125A | Model T125 | Same design |
| 14 | 3W175 | Model T270 | Almost |
| 15 | 5W125 | Model Q250 | Same design |
| 16 | 5W175 | Model Q375 | Almost |
| 17 | 3W150 | Model T340 | Almost |